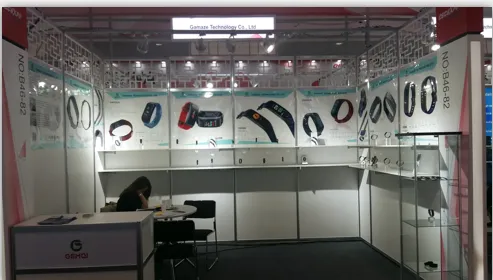 In 1986 CeBIT spun off from industrial fairs and became an independent fair.CeBIT meaning "office and information technology center", to display the communication and network, information technology, software, online services, office equipment and system technology, banking, ICT, known the latest technology and products, after more than ten years of development, has become the world's most fair size and influence of information and communication technology,Known as the "world's largest trade fair".
Our company had participated many exhibitions in recently years. Such as HK fair and USA fair. (Please refer to the pictures)
We are the factory, which located in Shenzhen a coastal city, it is easy to transport; our obvious advantage is that we can meet the customer needs, and the cost is inexpensive than other suppliers. We have a professional sales team and production team, can provide good service to our  clients.
From the exhibition pictures, you can see our sales are try their best to introduce our products to the visitors, communicate with customer in smoothly English. It is no barriers in language communication.
Provide high quality product, good service to every customer is what we have been doing.